Chocolate Gelatin Bars

Ingredients:
3+ T non-hydrolyzed gelatin (buy from Great Lakes Gelatin)
¾ c cold water
1 c boiling water
⅓ c granulated sugar
2 c chocolate chips (Enjoy Life recommended)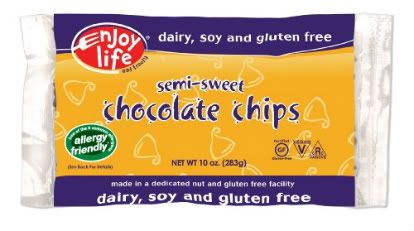 Instructions:
1. Put gelatin and cold water in blender and let stand for 5-6 minutes.
2. Add boiling water and sugar.
3. Blend on low for 2 minutes or until gelatin is dissolved.
4. Gradually add chocolate chips while blending.
5. Blend until mixture is smooth.
6. Pour mixture in a square pan and refrigerate until firm.
7. Cut into 1-inch squares or shapes (using cookie cutters) before serving.
Recipe from http://recipes.wikia.com/wiki/Chocolate_Gelatin_Squares